A dear friend of mine, Lisa gifted my with some wild cherry bark (Prunus Serotina).  This would be my first introduction working with the inner bark of a tree.  It was delightful to say the least, the sweet aroma of almond and cherry infusing the space around me.  Something very special about this tree indeed.
Along with Cherry Bark's seductive aroma, it is absolutely beautiful.  The inner bark which is what will be used in syrup is vibrant green and filled with all sorts of potent qualities.
The actions of Wild Cherry Bark are Anti-tussive, expectorant, astringent, nervine, anti-spasmodic.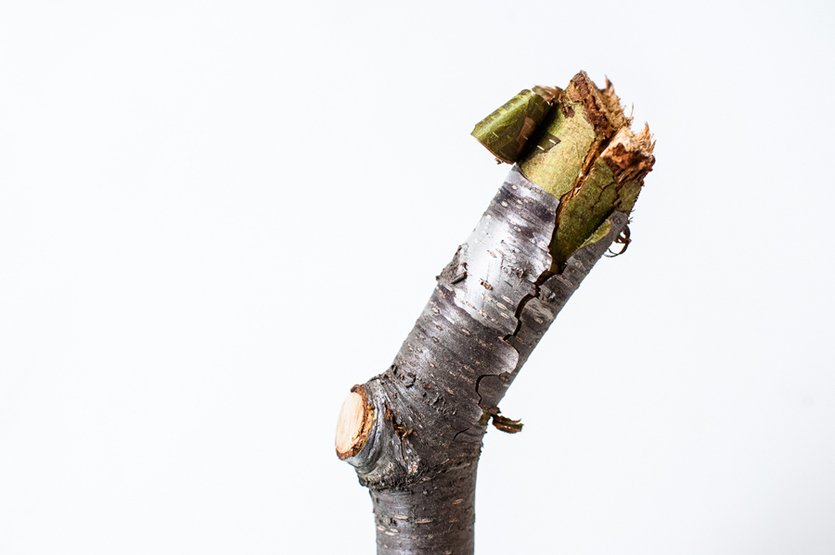 Wild Cherry bark is best suited for someone who has bronchitis, wooping cough or an irritating dry cough that will not go away.  For detailed information on harvesting wild cherry bark and to determine best cough remedy for you, I recommend visiting the Minnesota Herbalist website.
Quoting Erin Porier, "Wild Cherry Bark is a true antitussive, that is, it sedates or suppresses the cough reflex.  Most of the time, holistically oriented herbalists don't suppress bodily processes. Instead we try to support the body as it moves through illness, enhancing the body's natural mechanisms of healing like increasing surface circulation to open the pores and provoke sweating during a fever, rather than suppressing a fever. Or we may actually enhance the cough in order to help the body remove mucus by using moistening expectorants…However, an antitussive can be the perfect remedy when the cough is irritating, spasmodic and not productive.  Wild Cherry can also be used when coughs linger after the infection seems to be over and coughing fits are triggered by going out of doors during cold weather or doing some exercise or even laughing. The individual has nothing to cough up, he or she just keeps coughing." (2)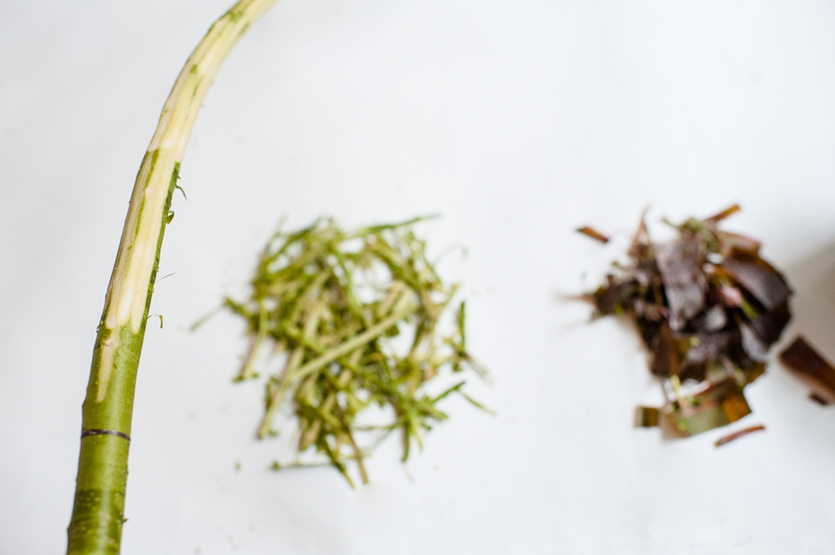 To extract the inner bark, get yourself a sharp blade or knife, cut a line 6-12 inches down part of the branch and peel back outer layer.  When it is all green, take your knife and gently scrape off the green layer.   Keep in 2 separate piles.  The outer bark I saved and used for fire tinder.  And the green inner bark is reserved for the syrup.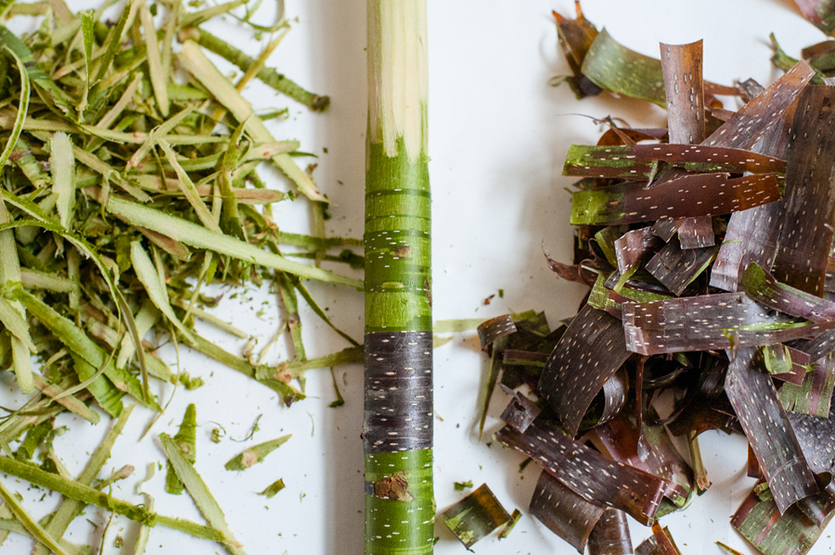 There are many ways to make a Wild Cherry Bark Cough Syrup.  The recipe below works great, is very tasty and loaded with potent herbs.  Be sure to add a whole lot of intention and love into this recipe to maximum effect!


If I am needing more herbs that I do not have at home or can forage for, I usually go to a local herbal shop or Mountain Rose Herbs where I am confident the plants are organic or sustainability harvested.  Once you have the beautiful ingredients together along with a mindful intention you are ready to start brewing.


Fill one quart of water and add herbs, bring to a boil then slightly cover, turn to low and simmer until half of the water is gone and you are left with about one pint.  This can take a couple of hours.  Once water has reduced by half, strain herbs using cheesecloth and pour liquid back into pot.  


Now its time to add a little bit of sweetness into our lives.  I used 3/4 cup of honey, but by all means use as much or as little honey as you like.  To preserve and to add a warming effect to syrup, add in a TBS of brandy.  After incorporated, let cool and pour into your favorite sanitized bottle or jar.  I prefer to use the stopper bottles as they stay fresh for a long time. Keep refrigerated if you would like syrup to last even longer.  


As I was gifted with quite a  bit of Wild Cherry Bark, I had excess inner bark of which I decided to make a tincture.  Bark is covered with Brady, left to sit for 7 weeks and shaken daily or close to.  Strain and bottle and you have another potent herbal remedy.


Reported Uses of Wild Cherry Bark:
"Wild Cherry Bark is a fine expectorant that loosens and expels phlegm from the lungs and has helped bronchitis, colds, flu, dry coughs, tuberculosis and many other pulmonary complaints. It also acts as a mild sedative that not only may calm coughs, but also nervous irritability and nervous indigestion.

It has been used for centuries to treat pulmonary conditions such as bronchitis, asthma, dry coughs, tuberculosis, scrofula and catarrh. Furthermore, its cough-suppressant qualities have been beneficial in cases of whooping cough, nervous and chronic coughs, colds and influenza; and for that reason, it is familiar to all of us for its use in cough drops and cough syrups.

Wild Cherry Bark is considered a mild sedative and has been used to calm irritation, diminish nervous excitability and alleviate nervous dyspepsia. The herb is said to be soothing to the nervous system and has been used to slow a nervous, rapid heartbeat (tachycardia) and help a heart that is characterized by a feeble pulse (bradycardia) or frequent, irregular heartbeat (arrhythmia). Cardiac friendly, Wild Cherry Bark is also thought to be helpful for high blood pressure.

Wild Cherry Bark is believed to be very beneficial in cases of dyspepsia, poor digestion, gastritis, excess flatulence and general indigestion. Its astringent qualities may also help to relieve diarrhea, colitis and dysentery. Wild Cherry Bark is reputed to have parasiticidal qualities and has been used to destroy and expel parasites and worms from the intestinal system.

As a diaphoretic, Wild Cherry Bark encourages sweat, and the increased perspiration helps to cool the body, bring down fever and expel toxins through the skin.

Wild Cherry Bark is believed to possess antioxidant properties that may be helpful in the fight against the oxidative damage to cells and tissue caused by free radicals. Its amygdalin content is believed to be the active constituent responsible for this effect.

Used externally, Wild Cherry Bark has been included in poultices that may be applied to relieve ulcers and abscesses.

Instructions: Use 6-12 drops in juice or water, under the tongue or as desired. May be taken 3 times daily. Shake well. Store in cool dark place. Keep out of reach of children.

Contraindications: Pregnant and nursing women should not use Wild Cherry Bark Herbal Supplement, nor should people who are being treated for hypotension. (4)"
Livestrong website mentioned…
"Wild cherry bark is classified as a "relaxing expectorant" because it thins mucus secretions and coats irritated respiratory tissue, states Shayne Foley, contributing author at HerbalEd.org and education director with Herb Pharm, a manufacturer of herbal medicines. It is easier for the fine hairs of the respiratory system, known as cilia, to move thinner secretions out of the lungs and bronchial tubes."(5)
---
Disclaimer: The information presented herein is intended for educational purposes only. These statements have not been evaluated by the FDA and are not intended to diagnose, cure, treat or prevent disease. Individual results may vary, it is always advisable to consult with your own health care provider.
---
Sources
http://commonsensehome.com/cold-and-cough-care/
http://minnesotaherbalist.com/2014/07/29/plant-profile-wild-cherry-bark/
http://www.healthy.net/Materia_Medica/Wild_Cherry_Bark_Herbal_Materia_Medica/296
http://store.newwayherbs.com/wild-cherry-bark-prunus-serotina-p314.aspx
http://www.livestrong.com/article/271834-what-are-the-benefits-of-wild-cherry-bark/
http://www.pfaf.org/user/Plant.aspx?LatinName=Prunus+serotina