Ever taken a bite out of an apple to find a worm in it?  With apple orchard's that are certified organic, natural precautions must be enacted to ensure worms are not one bite away.  Tanglefoot Red Sphere Traps are what is used on the WEI farm so we can enjoy organic apples pesticide and worm free!  The idea is that the red ball traps the apple maggot flies before they deposit their eggs. The flies are tricked into thinking the traps are apples and once they land they are stuck. Traps should be placed in mid-April, before apple fruiting.
Cleaning the red balls is no easy task, yet WEI creates an event for brave volunteers that you will not want to miss.  This year's "Red Ball Party" was  quite an enjoyable experience despite the grossness of cleaning the gunk off the balls.  The fellow volunteers were a lot of fun and and WEI invited a chef, Nick Schneider to come and prepare lunch.  Featuring a delicious salad freshly harvested from the hoop house, homemade pizza on woodfire stove and a scrumptious panna cotta with a berry topping. Hmmmm hmmm hmmm.  It was heavenly!  Nick Schneider is a Minneapolis based multifaceted chef who focuses on natural-foods cuisine, based on fresh, local, and seasonally available foods.  Currently, Nick operates a personal chef business and catering business Thrive Chef Works.
Back to business.  The red balls are dipped in Tangletrap, an organic insect trap coating.  When it comes time to clean off the Tangle trap from the red balls, it takes a train of people.  After the balls are gathered, the assembly line is in place and we are ready to start cleaning.  It took about 14 volunteers just around 5 hours to gather and clean the red balls.
 Heat 2 crockpots of vegetable oil
Dip balls in oil
Scraper team takes off first layer of goo and lil bugs
Dip in 2nd crockpot
Paper towel clean the balls til fairly clean
Wash with soap & water in sink for final cleanliness
Leave out to dry for next year
If you are purchasing a WEI CSA this year, you can enjoy eating those apples with a lil extra gratitude as you are now familiar with what it takes to eat organic apples worm free!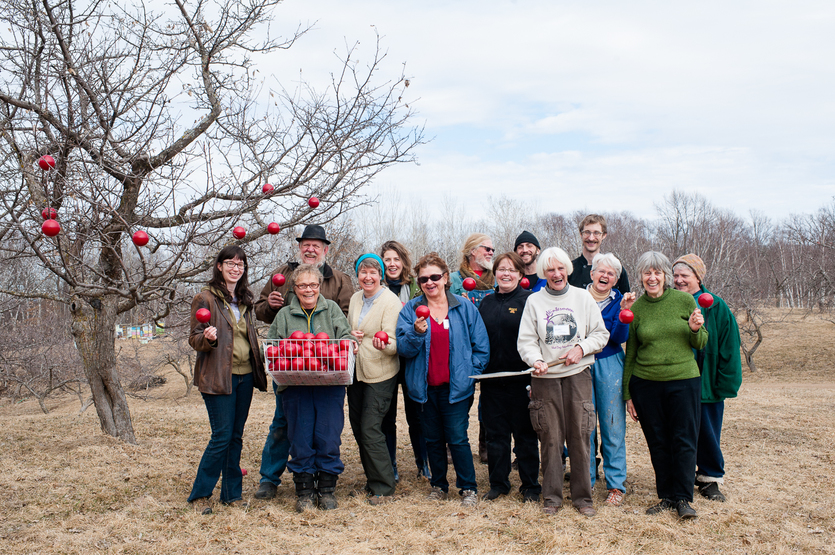 Sources