In 1993, the United Nations General Assembly designated March 22nd as World Water Day.  I first heard of World Water Day from the Counsel of 13 Indigenous Grandmothers a couple years ago.  Of course we can celebrate and honor the water every and any day, but why not tune in with thousands of people around the world and honor the one of the things that we all share.  Whether acknowledging water's place in life individually or in a group, it is all beautiful and potent anytime and in anyway.
The lovely, Keya Hutchinson initiated this 2nd annual World Water Day walk at Minnehaha Falls.  Starting out at the top of the falls with some songs and words, we then made our way to base where we had the honor of Al Baker and his partner Lisa share more songs and prayers.
Following the stream with the heartbeat of the drums radiating out, we reached the Mississippi River where we created a heart mandala of corn, flowers, shells, blueberries and other organic materials.  A time for silence, a time for songs and now its time to get warmed up by the fire as it was very chilly out.   Mysteriously there was already a fire lit with no fire keeper present when approaching the Mississippi and thankfully Kevin volunteered himself to tend the fire until we completed the Mandala.
Not only were we gifted with a warm fire, we were showered with big fluffy frozen crystallized water flakes to add to the radiance of the day.  Thank you Water for your many forms, for filling out all of life, cleansing, nourishing and sustaining us all.  We pray that our gratitude and consciousness continues to deepen and that clean water becomes more and more accessible to everyone around the world.
From the Mystic Mamma blog:
"'We live in water in our mother's womb,' Hopi grandmother Mona Polacca explains. 'Moments before we come into this world, the water of our mother's womb gushes out, and we follow behind. That is why the Hopi call water our first foundation of life.'

"It is not coincidence the Grandmothers say, that the Earth has the same percentage of water as the human body does.


"It is also not a coincidence that, as the sacred waters of the planet- Mother Earth's blood- are becoming dangerously polluted, we are at the same time forgetting our innate connection to the Sacred Universe, the only understanding that will save us."

"…If we consciously greet the water as we drink and bathe in it, for instance, we begin to have a relationship with water, the Grandmothers say.

"'We know the Creator can bless us with answers through water,' Grandmother Mona says. 'That element can help us with understanding. The more we honor and feel gratitude toward water, the greater the assistance we will receive from it in our lives.'

'Because of our connection to the elements, we also have the capacity to heal the waters, just as the waters can heal us.'


"The Grandmothers say that quantum physics is proving what indigenous people have known all along, that prayer can change the pollution in the waters. The Grandmothers pray every day for the waters of the Earth to become purified again."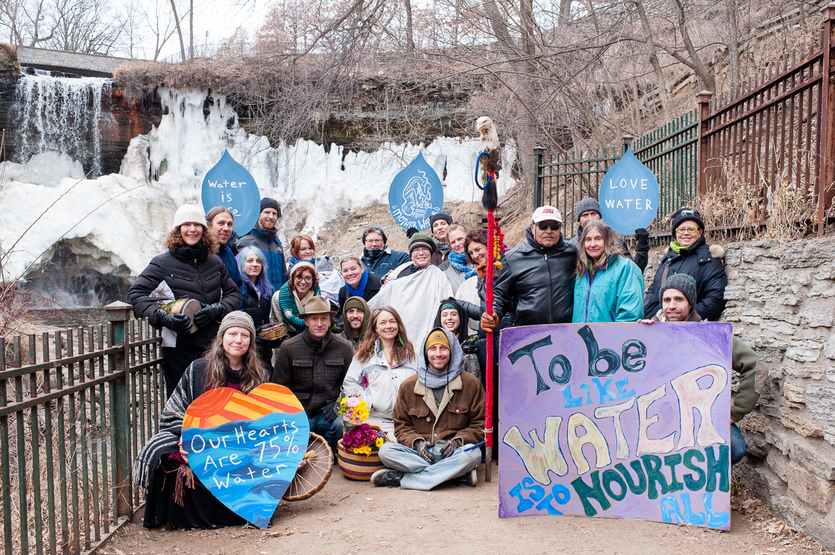 Sources
http://www.unwater.org/worldwaterday/home/en/
http://www.grandmotherscouncil.org/statement-from-the-international-council-of-thirteen-indigenous-grandmothers-for-world-water-day-march-22nd-2014
http://www.mysticmamma.com/world-water-day-march-22-prayer/