Kava kava chai calms & warms body, while keeping your mind alert. A perfect communal stimulating and relaxing drink.  This recipe is inspired from Rosemary Gladstar.  There is not one way to create this delicious herbal beverage as the recipe can vary depending on taste and herbal preferences.  Basic chai tea is a great warming beverage with cinnamon sticks, fresh ginger, cardamon pods, cloves, whole peppercorn, vanilla beans and coconut milk.  Kava kava is added to this carminative concoction for its relaxing and heart opening properties.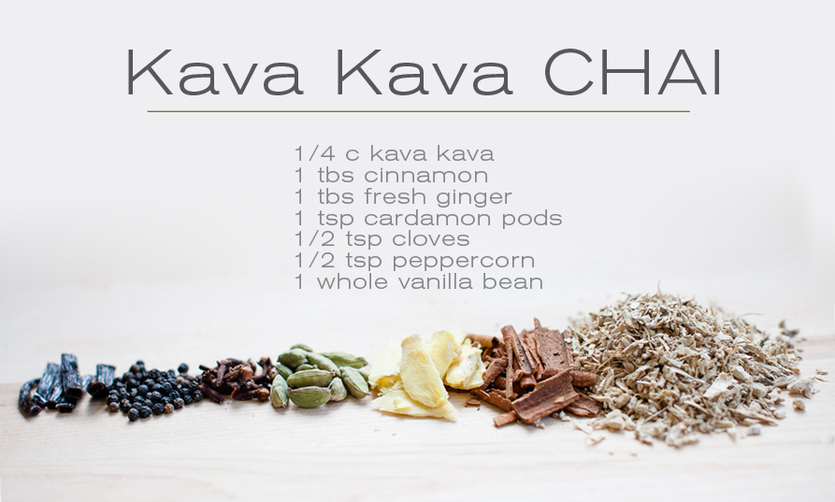 Kava kava (piper methysticum):  anti-spasmodic, stimulant, diuretic, anti-fungal, analgesic, muscle relaxant, anesthetic 
Traditionally used in group setting to bring about tranquility by way of relaxing the body and mind as well as clarifying the thought process and inducing feelings of peace and harmony.   Kava leaves your mouth feeling a bit tingly, which is actually your gage for how strong the kava is.
Cinnamon Sticks (cinnamon zeylanicum):  carminative, astringent, aromatic, stimulant, demulcent
Most familiar to us, cinnamon is a powered spice we use in teas, baked goods or in hot cereals. Cinnamon has been used to aid in relieving nausea and vomiting.  With its carminative and warming action, it stimulates digestive fluids and aids in digestion.  Cinnamon is not only great for the body, its aroma is like no other.  So delicious.
Ginger (Zingiber officinale):  stimulant, carminative, diaphoretic, aromatic, emmenagogue
Stimulates peripheral circulation thus being of support in cases of poor circulation and cramping.  As a diaphoretic it aids in assisting fevers to move through as it promotes perspiration.  As a carminative, ginger promotes gastric secretion.  Ginger has also been used to relieve sore throats, dizzy spells and nausea.
Cardamom Pods (Elettaria cardamomum):  stimulant, carminative, aromatic
Traditionally used for indigestion and gas especially when experiencing griping pains.  Cardamom is used in oral health, colds and flus, detoxification, depression, inflammation and even has been noted to reduce blood clots.
Clove (Syzygium aromaticum): stimulant, carminative, aromatic, anti-microbial, anti-emtic
Cloves are your allay in cases of vomiting and nausea.  They are also used to stimulate digestive system and relieve tooth pain as cloves are a mild anesthetic.  A friend of mine came to my house with a swollen cheek and tooth pain.  We put some clove oil on it and within the hour he experienced relief and the swelling went completely down.  Cloves flowers are small yet very potent.
Black Pepper (Piper Nigrum):  sialagouge, anticatarrhals, alterative, expectorant, energizer, carminative
Stimulates flow of saliva.  Supports colds with mucous as well as sore throats.
"The alkaloid derived from black pepper, piperazine, is used as an anthelmintic drug called Entacyl. The derivative piperine has been shown to be useful in increasing bioavailability and the absorption of nutrients." ~ mountain rose herbs
Vanilla Bean (Vanilla planifolia):  
"The medicinal potential of vanilla has been the subject of extensive scientific study over the past two decades. Studies have demonstrated that vanillin, the primary compound in vanilla, has anti-carcinogenic properties." ~ (herbwisdom.com)
"Its extract contains small amounts of B-complex groups of vitamins such as niacin, pantothenic acid, thiamin, riboflavin and vitamin B-6. These vitamins help in enzyme synthesis, nervous system function and regulating body metabolism.
This condiment spice also contains small traces of minerals such as calcium, magnesium, potassium, manganese, iron and zinc. Potassium is an important component of cell and body fluids that helps control heart rate and blood pressure." ~(nutritionandyou.com)
You can purchase any of these herbs by clicking on the Mountain Rose Herbs Banner.   All herbs are organically cultivated and/or ethically harvested in the wild.
After gathering all ingredients, take the peppercorns, clove, cardamon, vanilla bean and run through a food processor to release the beautiful aroma of these powerful spices.



Bring 4 cups of water to a boil and add blended herbs as well as ginger, kava and cinnamon. Bring water to a light simmer and cover immediately.  Simmer for 4 hours (can simmer longer for richer flavor).  Strain when satisfied.  Mix in 1 can of coconut milk (kava contains kavalactones which need oil/fat to breakdown) to mixture and let sit overnight.  The coconut milk balances the flavors and adds to the richness and deliciousness of the chai. 


Final step is to add Maple Syrup to taste.  Mix all up and add a garnish of your choice.  Hmmm, hmmm, hmmm… tingly, warming, creamy, oily, anti-oxidant, stimulating, relaxing, nourishing herbal beverage.


~ All information contained within this blog is intended to educate, entertain and inspire only. If you have any specific health concerns, please visit your local herbalist or healthcare provider for the appropriate guidance and support ~
Sources:
The Way of Herbs, Michael Tierra, 1980, pg 74-75, 147
Holistic Herbal, David Hoffman 1996, pg 79, 88, 165
http://www.nutrition-and-you.com/vanilla-beans.html
https://www.mountainroseherbs.com/products/peppercorn-black/profile
http://www.sunwarrior.com/news/15-health-benefits-of-cardamom/
http://www.herbwisdom.com/herb-vanilla.html